Preparatory

Language

Courses for Higher Education in France
---
Ι I wish to bring an international dimension to my studies 
Ι 
Preparation course

for graduate studies – Intensive 20 hours / week (3 months)
Fall,  Spring

and

Summer

session
The French education system is internationally recognized and offers a wide range of training courses for all levels.
Many prestigious schools welcome you to France to prepare you for an international career.
Our team will advise you among its partners and guide you through the registration process.
Objectives :
In a group adapted to your level, according to the scale of the Common European Framework of Reference, this unique and complete French or English courses allows you to :
Improve your speaking and writing skills in general and Business French or English with professors specializing in higher education
Acquire a knowledge of professional French or English to acquire the basis for your future teachings 
Understand the education system and communicate 

better 

with these actors to make a success of your arrival at the university or your high school. 

Discover French or English culture through visits, workshops and conferences to understand today's major debates and to be able to interact easily
Be effectively prepared for the academic community by acquiring all the written and oral techniques required by higher education
Our objective is to help you adapt successfully to studying in France by developing your academic and linguistic skills. 
Our teachers are familiar with the academic and linguistic requirements related to diplomas and will be able to guide you successfully.
Your program : 
20 hours of classes per week / 

12 weeks of classes per session

Main course : Development of communication skills + Grammatical and lexical reinforcement
Courses in written and oral expression techniques for academic purposes
University work methodology course
Academic Homework Practice Course
Conversation classes in small groups

Modulated groups to vary teachings methods

Team Projects module
Cultural activities and Parisian life module
More information about your program :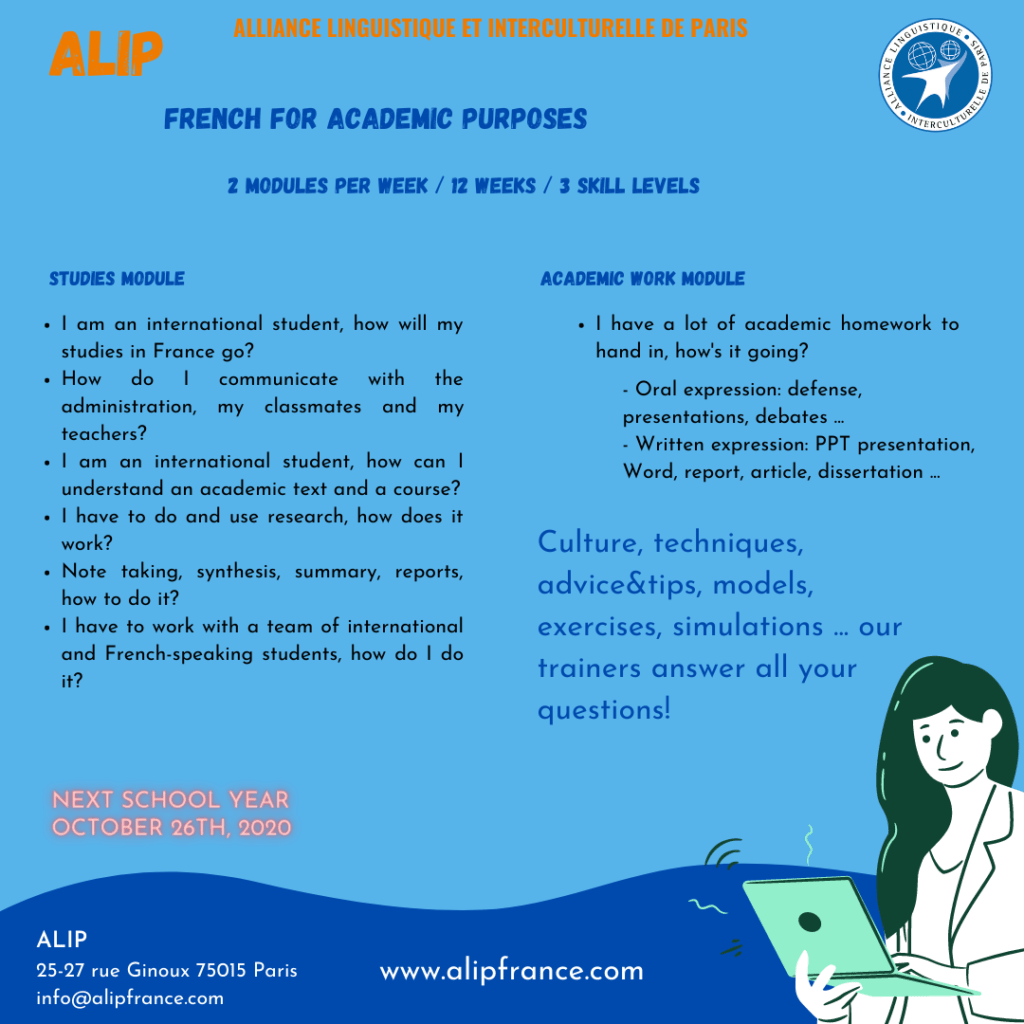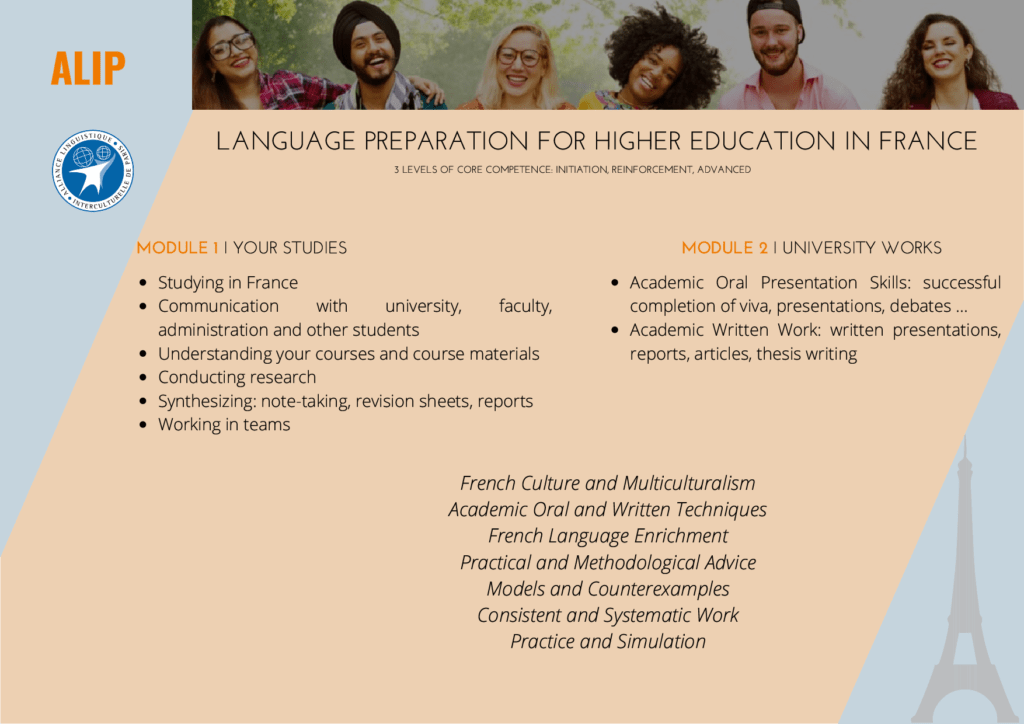 Methodology :
Our active and rigorous methodology guarantees you a successful preparation:
Practice written and oral exercises specific to the university world

Syllabi of methodological and academic courses that are progressive and adapted to the level of the students

Observation of examples and reuse

Role-playing and role-plays

Practical case studies

Work in sub-groups
Monitoring:
As for all our courses, you benefit from a rigorous and individualized pedagogical follow-up. Many appointments punctuate the training and the whole team is at your disposal.
Certification:
A certificate of level and marks is given at the end of the training.
IMPORTANT : Do not forget to register for the TEF or TCF  exams in French at ALIP to promote your training at your future Grande Ecole or your employer!
---
ALIP's plus: To progress also in both languages, ALIP also offers a bilingual course, in French and English:
1 intensive semester of French (20h) + English (6h) – 26 hours / 3300 euros per semester. The course schedule is the same.

Looking for a shorter French course? Discover our 4-weeks French course.